About the Kevin M. Eidt Scholarship Fund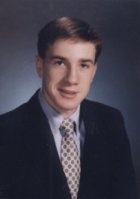 The Kevin M. Eidt Memorial Scholarship Fund was established in memory of Kevin, an Honors Program computer science major in the Boston College Carroll School of Management class of 2000, who died of cardiac arrest while playing an intramural basketball game in his freshman year.
Although destined to have only one semester at BC, Kevin made a significant impact on campus. He was posthumously awarded the Nicholas H. Woods Leadership Award sponsored by the Office of Student Development. In addition, the men and women's intramural basketball trophies at Boston College have been named after Kevin, and the Liturgy Arts Group dedicated their "I Want to Praise Your Name" a CD in his memory. In 2009 Boston College Eagle EMS, an all volunteer, student run, quick response emergency medical service established the Kevin M. Eidt Excellence Award which is presented annually to the most outstanding member of the organization.
In 2007 Norwalk High School named their Honor Society the Kevin M. Eidt Chapter of the National Honor Society. Previously, the youth room at Kevin's church in Norwalk was dedicated in his memory.
For more information about Kevin's Fund and the scholarships awarded, please visit the Fund Background Page.
Information about the Kevin M. Eidt Memorial Scholarship Fund can also be obtained from:

The Kevin M. Eidt Scholarship Fund
7 Bumblebee Lane
Norwalk, CT 06851
(203) 846-9718
kevinsfund@aol.com