17th Annual Kevin's Fund Golf Tournament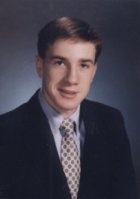 The 17th Annual Kevin's Fund Golf Tournament was held on September 27th at Wayland Country Club. Fifty-one golfers participated in this year's tournament. More than $7,500 was raised for the fund. The threesome of Sean McDonough, Dana Ng and Joe McMenimen took home first place with a score of 9 under par. It was the fourth Kevin's Fund golf championship for this group but their first since 2003. The other contest winners were:
Closest to Pin on #4 -- Sean Farrell 7'11"
Closest to Pin on #8 -- J.T. Fucigna 8'9"
Closest to Pin on #14 -- Eric Schwartz 20'7"
Long Drive on #12 -- Tommy Strazza 280 yards
Congratulations to the winners and thank you to everyone who partipated, donated or volunteered their time. Please click HERE to see a special message from Chris Eidt.

Kevin's Fund and the Kevin M. Eidt Scholarship Fund was established in memory of Kevin, an Honors Program computer science major in the Boston College Carroll School of Management class of '00, who died of cardiac arrest during an intramural basketball game in his freshman year. The Fund will apply 100% of the proceeds from this event to scholarships for the 2015-16 academic year, and in particular to the Boston College scholarships.
Since its inception in 1997 the Fund has awarded over $1.5 Million in scholarships to 114 young men and women attending institutions such as Amherst, Boston College, Bucknell, Carnegie Mellon, Columbia, Connecticut, Dartmouth, Fairfield, Georgetown, Harvard, Holy Cross, Johns Hopkins, Notre Dame, Rhode Island, Tufts, William & Mary and Wisconsin. There are currently two scholarships in Kevin's name at Boston College, one for a member of the CSOM Honors Program and another for a member of the Emerging Leader Program.
For more information and registration forms please contact John Fahey at jfahey@martinwhiteglove.com or Tom Henault at tom_henault@hotmail.com. Anyone wishing to donate auction items or become a program or event sponsor is requested to contact John Fahey at (978) 251-0305.
Download a copy of the tournament info page (Microsoft Word document).
Download a copy of the tournament registration form (Microsoft Word document).

Link to Kevin's Fund Page on the Boston College website
Information about the Kevin M. Eidt Memorial Scholarship Fund can be obtained from:

The Kevin M. Eidt Scholarship Fund
7 Bumblebee Lane
Norwalk, CT 06851
(203) 846-9718
kevinsfund@aol.com