18th Annual Kevin's Fund Golf Tournament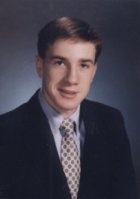 The 18th and final Kevin's Fund Golf Tournament to benefit the Kevin M. Eidt Memorial Scholarship was held at the Wayland Country Club in Wayland, MA on Sunday, September 25th. The Nail/McEnaney/Lane/Lane foursome took first place with a final score of 6 under par. The Strazza/Trovato/Nicolo/Farrell group grabbed second place. The contest winners were as follows:

Closest to Pin #4: Rick Bishop 13'1"
Closest to Pin #8: Tom Henault 12'4"
Long Drive: Rich Sandor

This was a record fifth Long Drive title for Rich Sandor and third Closest to the Pin prize for Tom Henault.
A final message from Chris Eidt:
It is with a mixture of pride, fond memories, and thanks that I welcome you to the final Kevin's Fund golf tournament today. When beginning this tournament in 1999 we did not expect the event to last 18 years any more than we expected Kevin's life to last only 18 years. The passing of time in this context doesn't seem possible despite the physical evidence around us.
The stats of this tournament are over 300 different golfers and donors, 33 members of the "ten year club" and more than 1,000 rounds of golf played in Kevin's name. Despite raising nearly $200,000 at this event towards the more than $1.7M in scholarship awards, the lasting legacy of this event is more than the growth of the gifts of education given back to BC. It became a focal point in the fall for the gathering of friends, new and old, for those that knew Kevin and those that know him only through others. We established a placeholder on the calendar that trumped other activities.
We never could have imagined this, when, on a whim, just wanting to do something to remember a brother and a friend, starting out in October 1999. We couldn't be more humbled and grateful by this gift. We allowed ourselves to become part of something bigger than ourselves. In acts of service we helped provide opportunity to remarkable young men and women now aided by Kevin's spirit. In doing so we helped to heal ourselves of our loss. While today closes one chapter of our story, for now the Fund will continue to hold its annual benefit dinner dance and scholarship presentation each spring in support of the nine scholarships in Kevin's name.
Lastly I want to personally extend my gratitude to everyone at Wayland Country Club for faithfully holding our hand in this journey. I must also recognize that none of this is possible without John Fahey, Tom Henault, Kevin "Elvis" McCarthy, Rick Bishop, Patrick Reilly, and Todd Zola. Their desire to share their experience of Kevin's spirit with you was a great gift that started and sustained this tournament.

Kevin's Fund and the Kevin M. Eidt Scholarship Fund was established in memory of Kevin, an Honors Program computer science major in the Boston College Carroll School of Management class of '00, who died of cardiac arrest during an intramural basketball game in his freshman year. The Fund will apply 100% of the proceeds from this event to scholarships for the 2016-17 academic year, and in particular to the Boston College scholarships.
Since its inception in 1997 the Fund has awarded over $1.75 Million in scholarships to 124 young men and women attending institutions such as Amherst, Boston College, Bucknell, Carnegie Mellon, Columbia, Connecticut, Dartmouth, Fairfield, Georgetown, Harvard, Holy Cross, Johns Hopkins, Notre Dame, Rhode Island, Tufts, William & Mary and Wisconsin. There are currently two scholarships in Kevin's name at Boston College, one for a member of the CSOM Honors Program and another for a member of the Emerging Leader Program.

Link to Kevin's Fund Page on the Boston College website
Information about the Kevin M. Eidt Memorial Scholarship Fund can be obtained from:

The Kevin M. Eidt Scholarship Fund
7 Bumblebee Lane
Norwalk, CT 06851
(203) 846-9718
kevinsfund@aol.com