Latest News
2018 Dinner Dance
The 19th Annual Kevin M Eidt Memorial Dinner Dance and Scholarship Presentation will be held Saturday, April 7, 2018 at the Shore and Country Club in Norwalk, CT. Tickets for the event and sponsorship opportunities are now available on our Event Page.
---
Alyxie Harrick Joins Selection Committee
The Board of Directors is pleased to announce Alyxie Harrick, 2008 recipient of Kevin's Norwalk High scholarship, has joined the Scholarship Selection Committee beginning with the 2018 award. Alyxie is a 2012 graduate of Georgetown University, and currently a Senior Consultant, Corporate Strategy with Deloitte in New York City.
---
2017 Scholarships Awards
The Board of Directors is pleased to announce that Kevin's Fund will be offering $129,000 in scholarships for 2018, bringing the total value of scholarships awarded to $2M since the Fund's inception in 1997. Please read our Thanksgiving update letter for more details.
---
2017 Annual Report Letter
Read The Fund's annual update letter reviewing a remarkable year of success and support.
---
Boston College CSOM Honors Program
Congratulations to Hannah Say, BC '18, the 2017 recipient of the $18,000 CSOM Honors Program Scholarship. She was recognized at the year end Honors Program Banquet at Boston College on April 27, 2017.
---
Kevin Eidt Emerging Leaders Award
Congratulations to Joan Kennedy BC '20, who was named the recipient of Kevin Eidt Memorial Emerging Leaders Program (ELP) Scholarship at Boston College on April 11, 2017. ELP is one of the great programs for BC freshman and the Fund is honored to be associated with it's highest participant award.
---
2017 Scholarship Recipient Announced
Congratulations to Grace Bradley, the 2017 recipient of $100,000 Kevin M. Eidt Memorial Scholarship for the most outstanding senior at Norwalk High School. She was recognized at the annual Dinner Dance benefit held in Norwalk on Saturday April 8, 2017. Ava will be attending Furman University in the fall.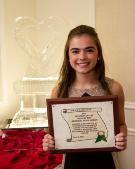 Grace Bradley
---
Scholarship Fund Accomplishments as of June 30, 2017
Recipients
142
Awards
$1,871,000
Funding as % of Contributions
99.4%
---
Recent Winners
2016 - Ava Rosato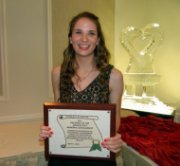 2015 - Kim Devine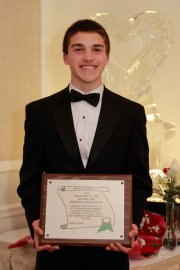 2014 - Brody O'Brien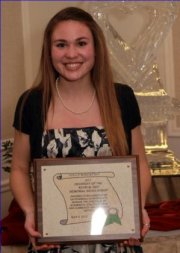 2013 - Nina Robertson
2012 - Alexander Libre